Incentive from Regione Lombardia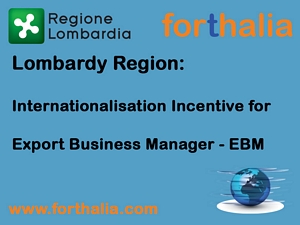 Forthalia has been selected as Strategic Partner of Regione Lombardia (Italy) for Internationalisation Consulting Services to be provided to eligible companies who qualify for the incentive for Export Business Managers - EBM.
The incentive of Regione Lombardia "EBM Imprese" is aimed at supporting
companies from the Lombardy Region
, through a
subsidy
, to promote the adoption of new business models for export, helping Micro, Small and Medium Enterprises (M-SME's), as well as Company Networks, in the implementation of projects for developing an International presence in identified target markets through:
Consulting services (partner search, feasibility studies, etc.) to be provided by an Export Business Manager included in the list of partners of Regione Lombardia, among which there is Forthalia;
Promotional services in foreign markets and in virtual exhibitions, communication, advertising, etc.;
Participation at international exhibitions.
Contribution from Regione Lombardia
The contribution is granted to requesting M-SME's and Company Networks in the form of a non refundable grant of
€ 8.000,00 upon an investment of at least € 13.000,00
for the acquisition of Internationalisation Consulting services delivered by "Export Business Managers" included in the list of partners of Regione Lombardia,
among which there is Forthalia
.
With an additional investment of at least € 5.000,00
for promotional services per and/or the participation at International Exhibitions companies shall be entitled to
a further contribution of € 2.000,00
.
The contribution shall be granted at the end of the activities.
Forthalia has been selected by Regione Lombardia as a Strategic Partner for the delivery of Internationalisation Consulting Services so, for those companies from Lombardy that are interested in receiving the non refundable grant, please contact us as early as possible. Applications are open as of January 10th 2017.