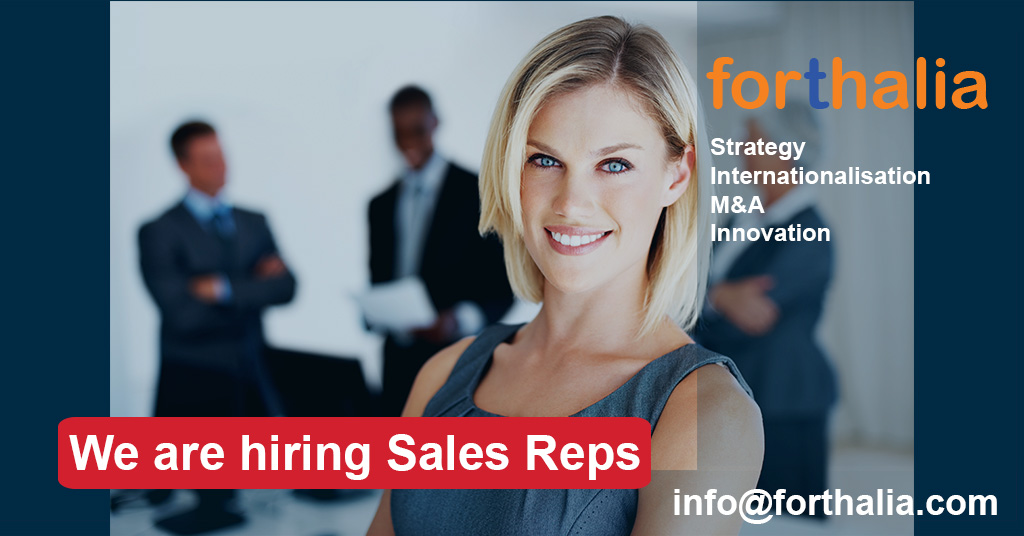 Description
Forthalia is hiring Sales Representatives and Agents to broaden its sales network.
The hired professionals will increase Forthalia's customer base selling our Consulting Services mainly to SME:
Strategic Consulting,
Internationalisation,
M&A Advisory (Mergers and Acquisition),
Organisational Consulting,
Marketing Consulting,
...
Main activities:
– Increment customer base
– Reach sales targets in the assigned territory in line with company objectives.
Sought Profile:
The ideal candidate has a good knowledge of the offering, he/she is very result-oriented with a strong sales attitude and with growth ambitions.
Target Clients:
Well organised and structured private companies and public institutions that require advice or support in:
Strategy
Internationalisation
TEM - Temporary Export Managers
M&A - Mergers and Acquisitions
Human Resources Development
Strategic Marketing
Organisation Design
The preferred targets belong to a variety of different sectors and would typically have sales between EUR 50M to 500M, or above.
How to apply
Please send your CV and presentation letter to: jobs@forthalia.com.