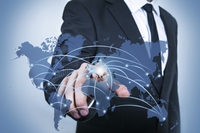 The Internationalisation of a company is a complex process that requires a lot of planning, skills, organisation and, above all, investment.
Before embarking on a journey that can last years Forthalia allows companies to 'look out' to international markets through the introduction in the company of a part-time Interim Export Manager.
The Interim Export Manager carries out, for a minimum period of six months, the typical activities required for export. For example: he may study the target markets, select events of interest, gather information about potential customers, run marketing campaigns, compile competitive information as well as legal requirements, etc ...
Being the Interim Export Manager a part-time resource the company will be able to assess its own potential in a concrete way while spending a fraction of the cost involved in case of a direct hire.
In addition the company that hires the Interim Export Manager service from Forthalia can more easily benefit from other services offered by Forthalia. Normally, after an initial period of with a Interim Export Manager companies require a thorough study of the market and, subsequently, a tailored market entry plan for that market.