Internationalisation Event - Regione Umbria 28 March 2019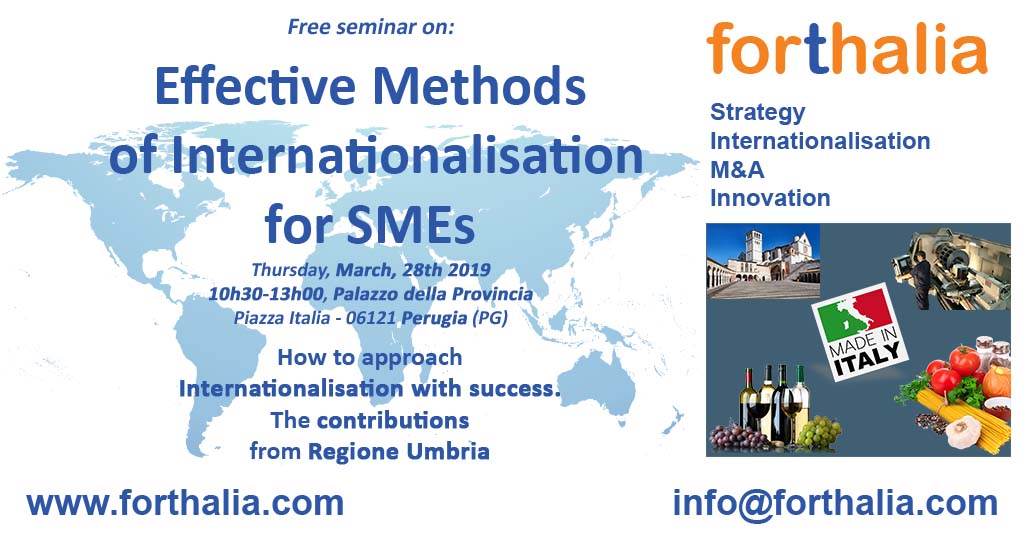 We are pleased to announce the Seminar
Effective methods of Internationalisation for SMEs
that will take place on
Thursday, March 28th 2019
in
Perugia
at
Palazzo della Provincia
(Piazza Italia - 06121 Perugia (PG))
The meeting will include a presentation on
effective internationalization methodologies for small and medium-sized enterprises
and an important testimony. In addition some interesting
non-repayable contributions
made available by
Regione Umbria Region
for 2019 will be presented.
Target audience
: Entrepreneurs and Managers of SMEs
Objectives
: Understanding the complexities of Internationalisation
Programme
:
Chairman:
J. Sebastian Matte Bon
(
Managing Partner of Forthalia
)
10h00 - 10h20: arrival and registration
10h20 - 10h30: Greetings from the
Vice-President of UPI Umbria, Dr. Roberto Bertini
10h30 - 12h00: Internationalisation in Pills
Speaker:
Dr. Massimo Mancuso
(
Partner of Forthalia
)
• Differences between Export and Internationalisation
• Company Assessment
• Legal aspects of Internationalisation
• Market Analyis
• Entry strategy, Development and Consolidation
• Objectives and Resources
• Management Aspects
• Planning and Control Tools
• Incentives and Motivation
12h00 - 12h30: Testimony: Internationalisation in the Food & Beverage sector
Speaker:
Dr. Francesco Tabano
(
President of FederOlio
)
12h30 - 12h50: Grants from Regione Umbria
Speaker:
Dr. Maria-Cristina Lalli
(
Business Development Manager Associazione Norcia in my Heart
)
12h50 - 13h00: Questions & Answers and Conclusions
To participate and for information
Participation is free upon registration.
Interested companies are invited to contact us via our web contact form, or sending an email to: info@forthalia.com or calling at: +39-02-4125347
.
We look forward to hearing from you soon!