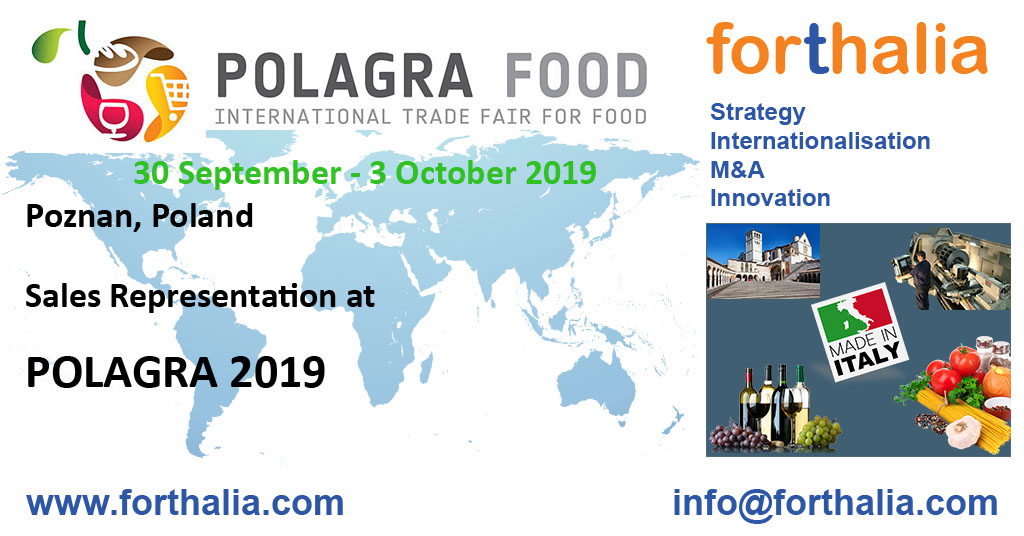 Polagra 2019 Exhibition
Forthalia, a consulting company specialising in internationalisation projects for SMEs, organises a
group show
at
POLAGRA 2019 in Poznan
, Poland, to promote Italian SMEs in the agri-food sector and introduce their brands and their products in the Eastern European market. Participation
fees starting from € 500 + VAT
with a choice of the following services:
• Logistics
• Collective stand
• Cold chain
• Dedicated spaces
• Custom graphics
• Business consulting
• Presentations and tastings
• E-mail marketing
• Translation of catalogues
• Website translation
• TEM service
• Marketing consulting
• Agency services
• Representation services
• Showroom
• Joint Report
• Custom report
• Legal advice
Places are limited
, and interested companies will be selected in chronological order based on the submission of the application to participate, which will be completed with payment of the participation fee.
The annual International Fair of
POLAGRA is the main agri-food fair for Eastern Europe
, and is held in Poznan in Poland,
from September 30th to October 3rd 2019
.
Polagra offers a privileged showcase not only for the 40 million inhabitants of Poland, but also for other countries, members of the EU and not, in constant economic growth in the race to recover the economic and social gap with Western Europe. This year, more than eighty thousand visitors are expected, mainly professionals in the food distribution sector in the various countries of origin, in the sectors of Ho.Re.Ca., Large Sclae Distribution and gastronomy.
Internationalisation Consulting
:
Forthalia offers this opportunity to Italian agri-food SMEs to introduce its internationalisation services. The companies participating in this initiative, in addition to benefiting from the aforementioned services, will be able to evaluate without any obligation the possibility of using additional services aimed at commercial expansion in new foreign markets.
To participate in our initiatives or for more information, visit our information page on www.forthalia.com, where you can fill out the information request form, or contact us without obligation.
For applications and information request
Participation is subject to payment upon registration.
Interested companies are invited to contact us to apply through the form on our website or by sending an email to info@forthalia.com or by replying to this message or by calling us at +39-02-4125347.
One of our consultants will call you to explain the initiative in detail as well as the advantages deriving from the accumulation of more services for an effective international development of your sales.
We look forward to hearing from you soon!