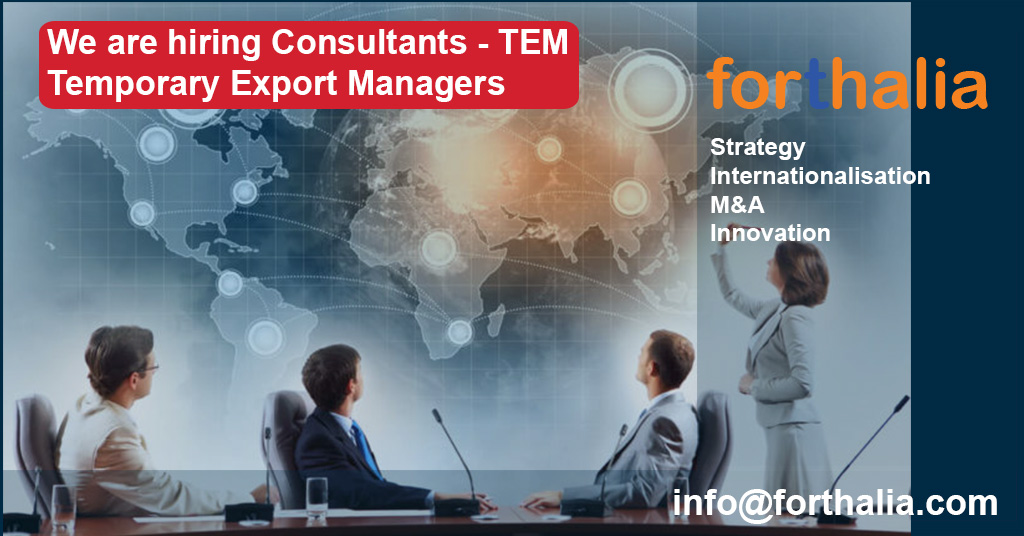 Description
Forthalia is hiring consultants for TEM - Temporary Export Manager assignments within our customer base.
Main activities:
The hired Temporary Export Managers shall be assigned to one or more clients and will carry out the following activities with the objective of supporting the clients reinforce their position in international markets:
Market analysis and research,
Competitive analysis,
Preparation of Business Plans,
Search distributors and potential customers,
Contact distributors and potential customers,
Select, Organise and Attend at International Exhibitions or Events,
Commercial Negotiations,
Keep the CRM up-to-date,
Social marketing,
...
Sought profile:
The ideal candidate has a good knowledge of the offered services, is a very results-oriented person, has a good strategic vision to close complex sales processes and personal and professional growth ambitions.
The very good knowledge of one or more foreign languages is required, together with familiarity of CRM systems and the availability to travel frequently as well as a good knowledge of one or more industrial sectors.
How to apply
Please send your CV and presentation letter to: jobs@forthalia.com.